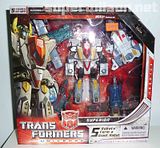 There is a lovely Xmas Pressie I got this year. Its a 25th Anniversary Transformers Universe Superion Giftset! It really came to me as a surprise as I thought it was a joke.
Anyways, I had a great Xmas and having this pressie is like adding whip cream on a ice blended latte. Thanks
Jason
for the pressie, I appreciate it... I will get u something when I'm going to Bangkok next month. Many thanks and Happy New Year!!