I had been using this Sony DSC-W110 Cybershot for almost six months. In fact for the past six months, most of the pictures u seen in my blog are mostly shot by DSC-W110. In rare occasions, I would use my Canon D20 DSLR.
The sleek front look...
The back look...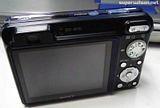 I loved my camera in black. Die die also buy black. After 6 months of usage, let me tell you the pros and cons of this camera.
Pros:
7.2 Meg
Carl Zeiss Lens
4x Optical zoom
Smile shutter
Full HD shoot capability
3200 ISO
Cons:
Night shots are horrible, tends to go to over exposed for auto settings... Must manually changed to ISO 100-200 for much lesser brightness on picture.
The position of the flash tend to be blocked by the fingers...
No Image Stabilizer
Tends to flash even enough light in auto mode
Market price for this is around RM 699 still. Using Memory Stick Pro Duo. Batteries are good for 3-5 hours of shoot. I would rate this as a basic digital camera.